Uttar Pradesh is the largest state in India population-wise and the fourth largest state in India. Its capital is Lucknow. The area of the state is 240900 square km. The largest district of the state is Lakhimpur Khiri and the smallest one is Hapur area-wise. The state borders that touch the borders of UttarPradesh are- MadhyaPradesh, Bihar, Delhi, Chattishgarh, Jharkhand, and Uttrakhand. Uttar Pradesh also touches the international border of Nepal.
List of Districts in Uttar Pradesh
There is a total of 75 districts in the state.  The state is divided into various Divisions and the districts are as follows-
Saharanpur Division- Saharanpur, Shamli, and Muzzafarnagar
Moradabad Division- Bijnor, Amroha, Moradabad, Rampur, and Sambhal.
Bareilly Division- Badaun, Bareilly, Saharanpur, and Pilibhit.
Lucknow Division- Lucknow, Lakhimpur Khiri, Sitapur, Hardoi, Unnao, and Rai Bareilly.
Devipattan Division- Behraich, Shrawasti, Balrampur, and Gonda.
Basti Division- Basti, Siddarthnagar, and Sant Kabir Nagar.
Gorakhpur Division- Gorakhpur, Maharajganj, Kushinagar, and Deoria.
Allahabad Division- Prayagraj, Fatehpur, Kaushambi, and Pratapgarh.
Azamgarh Division- Azamgarh, Ballia, and Mau.
Chitrakoot Division- Banda, Chitrakoot, Hamirpur, and Mahoba.
Faizabad Division- Ayodhya, Ambedkar Nagar, Barabanki, Faizabad, Sultanpur, and Amethi.
Jhansi Division- Jhansi, Jalaun, and Lalitpur.
Kanpur Division- Kanpur Nagar, Kanpur Dehat, Auraiya, Etawah, Farukhabad, and Kannauj.
Meerut Division- Meerut, Baghpat, Bulandshahar, Gautam Buddha Nagar, Ghaziabad, and Hapur.
Mirzapur Division- Mirzapur, Sant Ravidas Nagar, and Sonbhadra.
Aligarh Division- Aligarh, Etah, Hathras, and Kasganj.
Agra Division- Agra, Mathura, Mainpuri, and Firozabad.
Varanasi Division- Varanasi, Chandauli, Gazipur, and Jaunpur.
Tourist Destinations in Uttar Pradesh
There are several tourist destinations in Uttar Pradesh. World Famous Taj Mahal at Agra, Lucknow, Varanasi, Fathepur Sikri, Prayagraj, Kanpur, Sarnath, Mathura, Ayodhya, Vrindavan, Noida, Jhansi, Kushi Nagar, and many more. Due to these famous destinations, various filmmakers are moving towards UttarPradesh.
Apart from the tourist destinations, Uttar Pradesh is also famous for its industries. Moradabad is famous for its Brass work, Kanpur is known for its leather products, and Firozabad is famous for glasswork, the Carpets of Mirzapur, and Bhadohi. Noida is an upcoming IT hub. Various IT companies are located in Noida. There are 129 industrial parks in the state. The total area of industrial zones is 38 thousand acres. Domestic infrastructure is available in these industrial parks like- electricity, roads, and other facilities required to set up the industry. The workforce from several parts of the country is getting employment in these areas. Various big brands like Samsung, Vivo, Oppo, and Asian Paints are located in this area.
In this article, I have shared the Map of UP (Uttar Pradesh) in PDF & JPG download with preview as given below & scroll down & click on download button to take Map of UP in PDF & JPG download. It is required when you are working in Uttar Pardesh or working on any project where you need to check the Map of UP.
Map of Uttar Pradesh Preview
Map of Uttar Pradesh Satellite Preview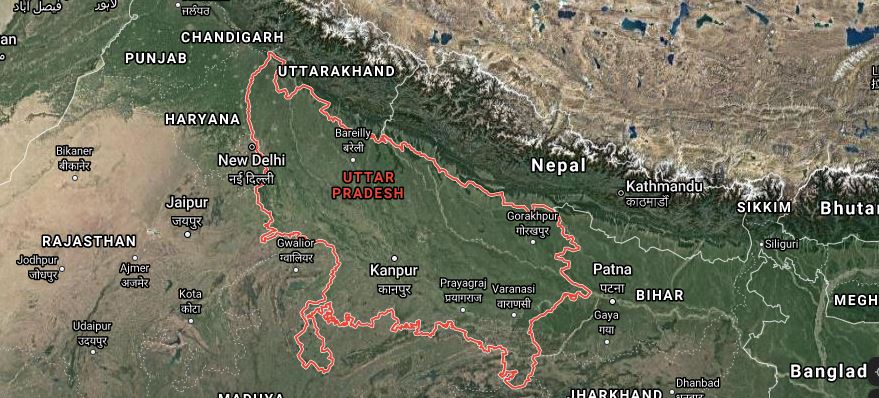 | | |
| --- | --- |
| Document | Map of  UP in PDF & JPG Download |
| Location | Uttar Pradesh (India) |
| File Type | PDF, JPG |
| Source | Google Map |
Download Map of UP in PDF using the link given below
Related Articles:
[elementor-template id="2845"]